Agricultural Waste Storage
Dairy Waste Storage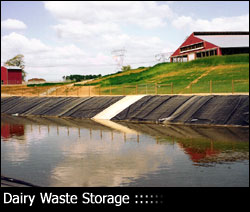 Dairy Waste Storage facilities are where Manada Construction Company has had their greatest growth. Our extensive customer list consists of many of the leading dairy operations on the East coast. We have been involved on nearly every type of manure system; stanchion barns with gutter cleaners, gravity gutters or flush-gutters with sand bedding, also, free-stall barns with scrapers or flush systems bedding with saw-dust or sand bedding. We have installed H.D.P.E. lined facilities from a quarter million to ten million gallons to handle any waste storage requirements. The introduction of Polyethylene Embedded Channel (PEC) by Poly-Flex allowed us to be able to make a water tight seal between our liner and concrete agitation ramps thus allowing agitation pumps to enter the manure storage without possible damage to the liner-system. Since then, Manada Construction Company has installed hundreds of liner systems for dairy operations. Manada Construction Companies liner systems can be designed for any dairy operation, at a cost savings of up to 50% or greater of a concrete or steel structure. Expensive manure storage systems DO NOT increase milk production. Manada Construction Company will work with you to bring you the most up-to-date, cost effective environmentally safe manure storage system.

Swine Waste Storage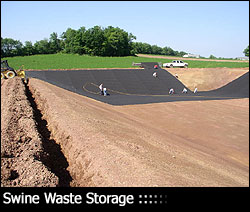 Manada Construction Company liner systems evolved from a need for containment of manure for larger swine operations to be contained in an environmentally safe yet economical manure storage system. H.D.P.E. (High Density Polyethylene) liners that were already being used in landfills and other waste sites became our solution for these larger swine operations. Manada has worked with nearly all pork producers throughout Pennsylvania and neighboring states to develop waste containment systems for sow, nursery, and finishing operations. Today with many 2800 sow operations and larger finisher floors, the two stage lined manure storage structure are a nutrient management necessity on many farms. Manure rich in nutrients from the first stage can be transported greater distances from the farm allowing for effluent from the second stage to be applied at greater rates near the swine facility. As the pork industry continues to evolve, waste management is also changing. Manada Construction Company is continually striving to meet the demands of the waste management requirements of the pork industry.

Additional Waste Storage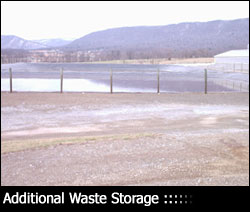 Manada's ag waste storage go beyond just dairy and swine facilities. We have been involved with duck houses, veal operations, egg processing, mushroom soil run-off collection, nursery irrigation and bark mulch processing. The ag business is very diversified. We here at Manada Construction Co. are continually striving to be the leader in all of the agricultural waste storage facility facets.